MOSES
(MOdular and Scalable Environment for the Semantic web)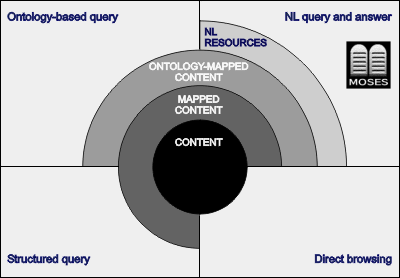 Thematic priority : IST (Information Society Technologies)
Type of instrument: Research Project
Project Name: MOSES
Project Number: IST-2001-37244
Co-ordinator: Alfredo Ricchi (FINSA)

MOSES focuses on the development of a modular and scalable ontology-based knowledge management system as a proof of concept for scalable and distributed information brokering. MOSES is based on advanced technologies, that integrates: NLP models and tools, graph theory, agent-based software technology.

The effectiveness of this system and the viability of the approach have been demonstrated by:
an application supporting ontology-based queries expressed in natural language in the domain of academic WEB sites, to be validated at the sites of the University of Copenhagen (in Danish language) and the University of Roma 3 (in Italian language);
a set of semi-automatic tools showing how new content may be easily added to the knowledge structure (scalability).
Partners
FINSA Consulting srl
Corso del Rinascimento 52 00186 Roma I
Technology Provider (Co-ordinator, SW agents, system integration)


Mondeca
72 rue Lauriston 75116 Paris F
Technology Provider (content management systems, graph theories and grid technologies.)


Center for Sprogteknologi
Njalsgade 80 2300 Kubenhavn S DK
Research and Technology Provider (NLP and knowledge management expertise)

Kubenhavns Universitet
Norregade 10 1017 Kubenhavn S DK
user (requirements, testbed, contents)


DIA - Universita' degli Studi Roma Tre
Via della Vasca Navale, 79 00146 Roma I
user/research (graph theories, content management)


RTV - Universita' degli studi di Roma "Tor Vergata"
Via del Politecnico 1- 00133 Roma I
Research and Technology Provider (ontologies and NLP)

ParaBot Services BV
Singel 160, 1015 AH Amsterdam NL
Technology Provider (data and text-mining skills and tools)